Traditionally when you close your eyes and think of a Sex On The Beach Cocktail you picture sunsets, warm sand between the toes, holidays, and good times with friends. Sounds idyllic right? No such luck this time!
Unfortunately, this trip to the beach soon turned into a holiday from hell. What started out as a nice bit of foreplay in the sand ended up in a total Halloween-themed blood bath!
We couldn't help but stick our Halloween spin on this fruity boozy cocktail and think it makes an awesome addition to your list of Halloween-themed cocktails. I'm fairly sure that you could make this seltzer cocktail with any of our citrus hard seltzers but we've used a blood orange to keep with the theme!
The
'Blood Bath On The Beach' Hard Seltzer Cocktail
A chilling mixture of orange juice, peach schnapps, grenadine, vodka, and of course a hard seltzer. Unfortunately, this trip to the beach soon turned into a holiday from hell. Introducing our Blood Bath On The Beach Halloween hard seltzer cocktail.
Author: Seltz Store
Prep Time: 4 minutes
Makes: 1 drink
...
Ingredients:
Blood Orange Hard Seltzer of your choosing

Double Shot of Orange Juice

Single Shot of Peach Schnapps

Single Shot Black Vodka

Splash of Cranberry Juice

Grenadine for effect

Plenty of ICE
Method:
Fill a glass with crushed ice. Add the orange juice and peach schnapps over the ice. Next, gently fill the glass leaving enough room at the top for a splash of cranberry juice and a shot of black vodka. If you're gentle this should layer on the top of your cocktail and give it the dark blood red top. Once you've added all your ingredients trickle some grenadine around the top of the glass and watch it run down into the drink for that extra bloody effect. You'll want to give it a good stir before enjoying it but the layers make for a great visual.
Top Tip: To make your black vodka you'll need to grab a few extra things from the shops. If you're in a hurry you can use food colouring with good results, however, for the best effect and to create a pretty much true black vodka that doesn't split or separate, chuck a cup of Black Rice (available in most big supermarkets) into a jug or container and pour in about 70cl of vodka. Cover and leave for 24hrs (stirring every so often) and you should be able to strain out your vodka from the rice and re-bottle. This creates an awesome black vodka for use in various Halloween-inspired cocktails and doesn't spoil the taste.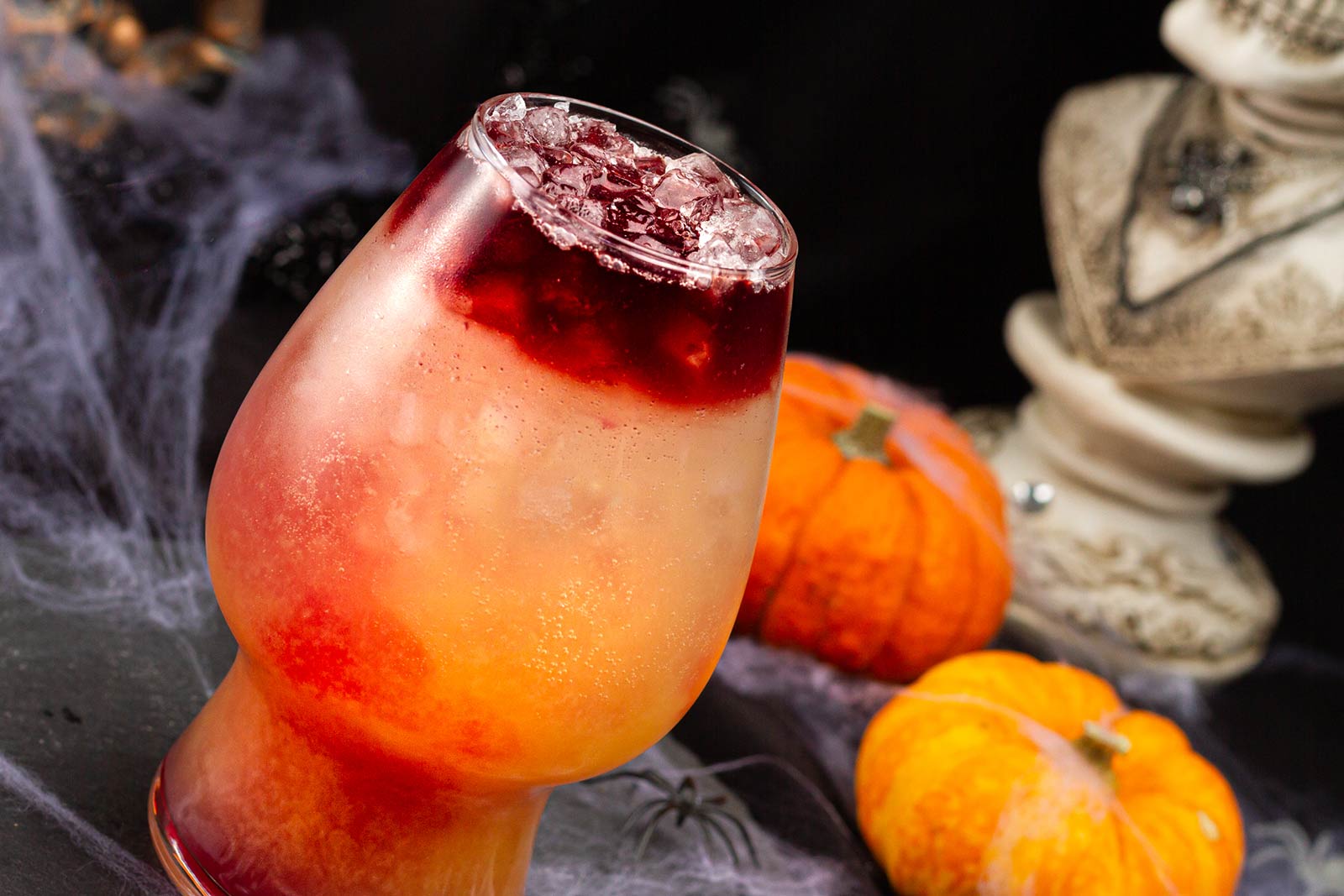 This bloody masterpiece is a doddle to make and the perfect way to spike those cocktails with your Blood Orange hard seltzer. A seltzer cocktail worthy of every Halloween party you'll ever attend.
Try it out at home and tag us in your efforts on Instagram so we can judge your mixology tekkers.