Bodega Bay Hard Seltzer! These guys are the UK's largest independently owned hard seltzer brand. Don't let the name fool you, this isn't an American hard seltzer import from the states! Founded by Charlie Markland whilst on a surfing trip the wonderful Bodega Bay in California, the idea to launch the hard seltzer brand was initially formed whilst he was out in the surf chatting with some locals. Charlie wanted to create a new drink that ticked all the right boxes, one that was naturally curated to refresh the senses and designed to fit in with modern lifestyles. Bodega Bay Hard Seltzer rocks three awesome flavours and initially launched in the slightly smaller 250ml cans. Fast forward to 2022 and these got the big upgrade to 330ml - This brings them inline with the other top hard seltzer offerings like White Claw Hard Seltzer, bringing more bang for your buck and further positioning themselves as one of the largest hard seltzer brands in the UK.

What is Bodega Bay hard seltzer?
As a hard seltzer, Bodega Bay is essentially made up from 3 simple ingredients - a soft, gently carbonated sparkling water, all natural flavourings (for that clean, delicious taste) and last but not least Bodega Bays trademark Craftedclear alcohol base. Not to be confused with light beers, ciders or canned gin and tonics, all Bodega Bay Hard Seltzers contain only 4.5 grams of naturally occurring sugars per can. They rock 1.14 units of alcohol and sit at just 29KCALS per 100 ml (or 96 calories per 330ml can). They're a vegan, gluten free alternative drink with no added colours, preservatives, sweeteners or sulphites! The perfect alcoholic accompaniment during gatherings with friends or that sessional-able BBQ drink you've always craved!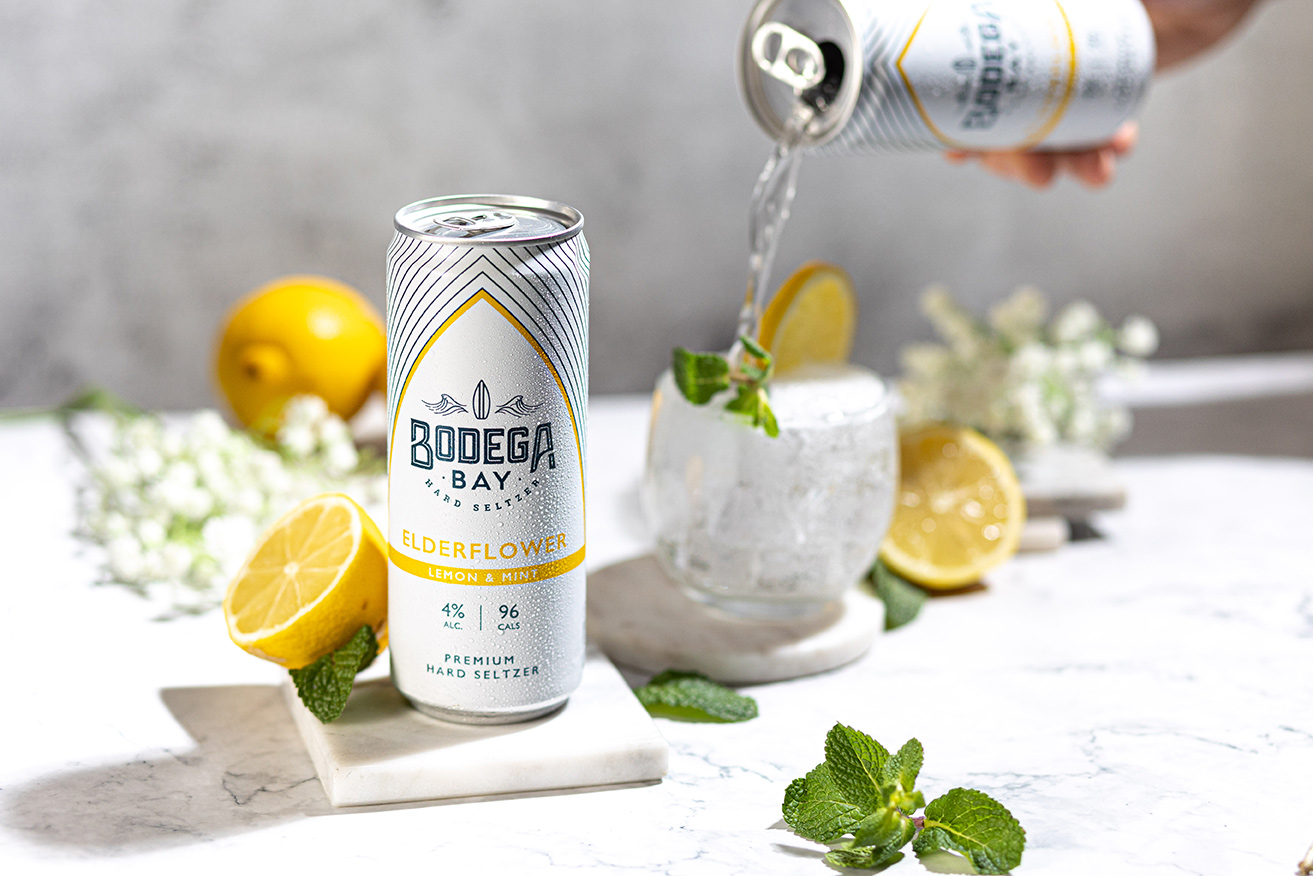 What flavours does Bodega Bay hard seltzer come in?
Like all hard seltzer brands Bodega Bay have picked a few flavour profiles that are sure to get your taste buds tingling. With 3, wonderful, naturally flavoured hard seltzers on offer you're bound to find a clear favourite.
Kicking things off we've got the Bodega Bay Apple with Ginger & Açaí. An incredible refreshing taste of green apple, seamlessly paired with a hint of ginger spice and tartness from the Açaí berry. At the time of writing this is the UK's only Apple flavoured hard seltzer so a real stand out. Definitely one to try as part of your mixed hard seltzer case.
A slightly more common hard seltzer flavour up next in the Bodega Bay Elderflower, lemon and mint hard seltzer. Elderflower is without a doubt one of the top, quintessential British flavours. Synonymous with a host of refreshing chilled drinks in the summer, combining this into a hard seltzer was always going to be a popular choice for UK hard seltzer brands. Bodega Bay have done themselves proud here with a wonderfully balanced combination of natural sweetness from the elderflower bounced off the slight acidity from the lemon and finished with a real subtle touch of mint.
Moving onto the final flavour now with the Bodega Bay Cherry, Mango & Goji berry hard seltzer. Cherry is another popular hard seltzer flavour choice here. To be honest, anything berry related, combined with alcohol seems to be an absolute barn stormer in the UK. We're real suckers for the stuff. This naturally semi-sweet hard seltzer has a nice depth of flavour and a little warm spiciness as a finish.
I struggle to pick a favourite from these three if i'm honest. Unlike some hard seltzers these are fully distinguishable from each other and all three stand as individual powerhouses within the hard seltzer category. I tend to lean towards cherry and elderflower hard seltzers a lot, perhaps that's because they're so familiar as flavour profiles but the Apple hard seltzer is not one to be snubbed at - especially as its so individual and totally unique to Bodega Bay!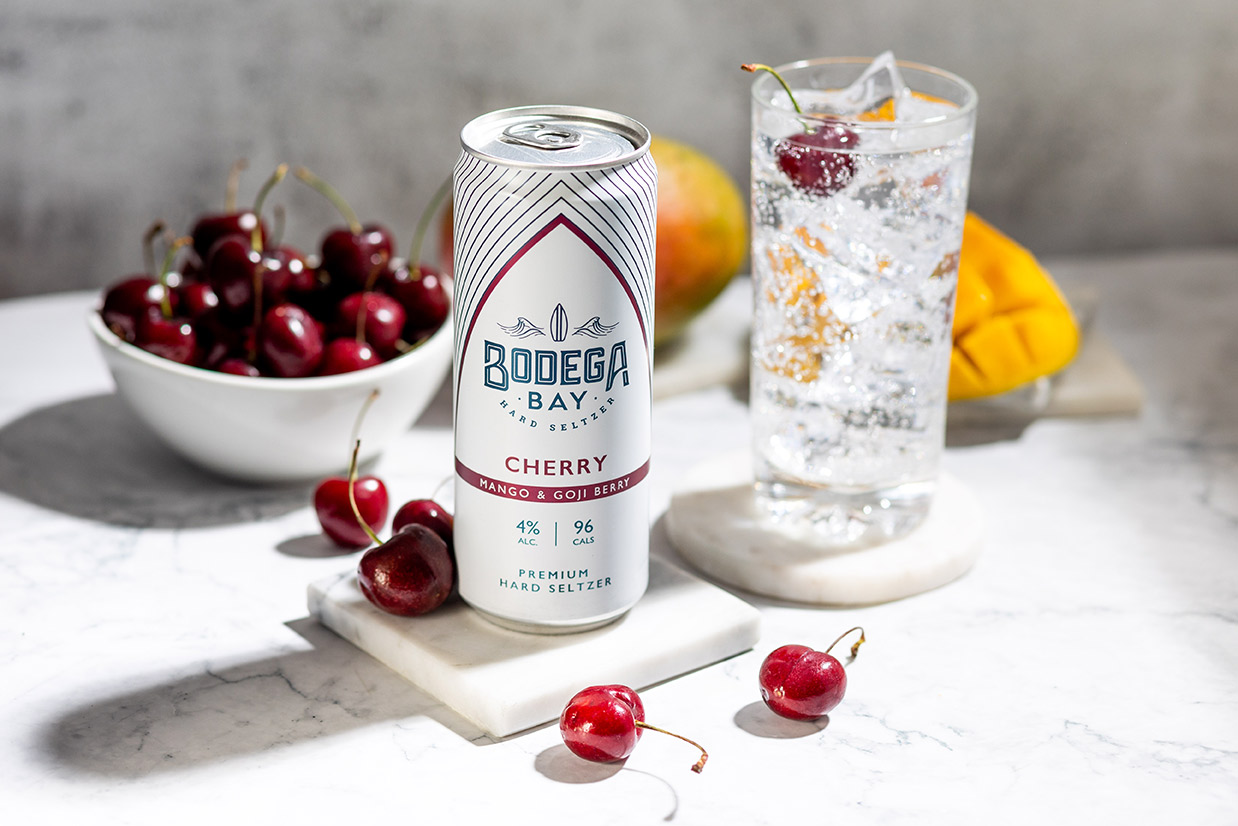 Can i drink hard seltzers on a weightloss diet?
The age old dilemma of balancing a diet and still wanting to enjoy alcohol. We're not going to make any assumptions or pretend that drinking hard seltzers is good for your diet but their very makeup makes them a viable alternative to higher calorie choices like wine, beers, ciders or sugary cocktails that's for sure. A Bodega Bay hard seltzer sits at 96 calories per 330ml can. Compare that with a typical 125ml glass of 12%ABV Prosecco (around 90 calories), or a 330ml bottle of Heineken (137 calories). You get a bit more bang for your buck thats for sure, especially when you start comparing them with sugary cocktails or ciders.
Bodega Bay hard seltzers are also vegan, gluten free and contain very little sugar and carbohydrates which makes them a good alcoholic drink alternative for people following lower calorie diets like keto too.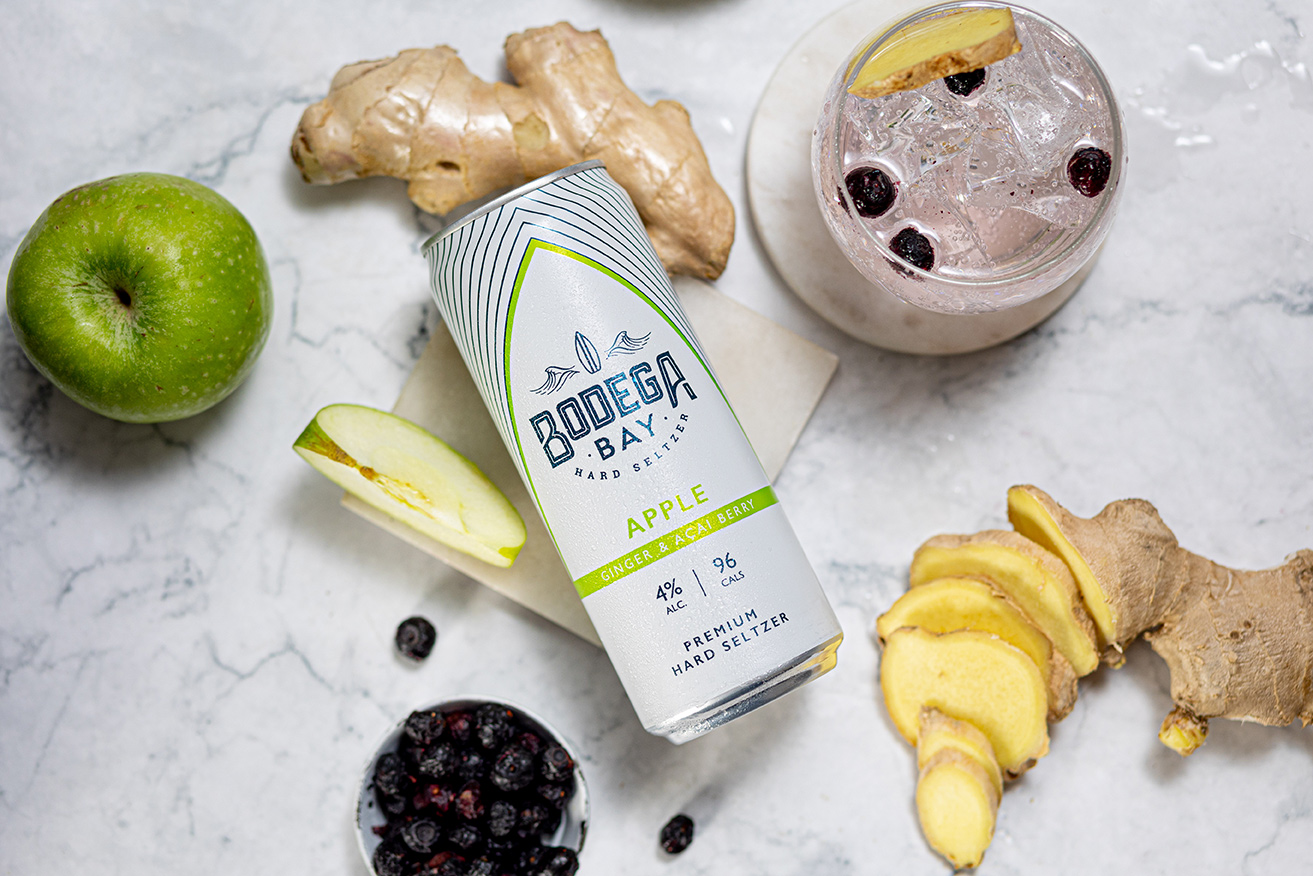 Where can I buy Bodega Bay hard seltzer in the UK?
Unlike many other retailers, here at Seltz Store you can sample all three Bodega Bay Hard Seltzers as part of your build your own mixed hard seltzer case. No huge commitments to massive multipacks of the same flavour or tedious trips to the supermarket. Simply grab a few cans of your favourite flavours as part of your own pick and mix hard seltzer case and let us deliver them to your door to enjoy at home.
Tried them before? Fear not! You can always grab our Bodega Bay Variety Pack or shop for larger flavour hard seltzer multipacks here.
As the UK's only online hard seltzer store, offering free delivery options, fast 2-3 day delivery there's simply no better place to try and sample bodega bay hard seltzer!