Want to take your Long Shot to the next level? Let us help. The guys from Long Shot Hard Seltzer have designed a range of hard seltzer cocktails to make using your favourite flavours. All under 100 calories, and all made with flavours, alcohol and ingredients you'll already have kicking around at home.
If you're looking for a summery cocktail idea or something to warm you up on a cold winters night this bright, colourful cocktail surely ticks a few boxes. Hard seltzer cocktails are perfect for summer bbq drinks and really help to level up your game.
The
Long Shot 'Bright & Sunny' Hard Seltzer Cocktail
Though this rum-based cocktail is more than enough to brighten even the dullest of cold dark winters it's probably best enjoyed on a nice warm, summers evening! Whatever the time of year you're going to enjoy every sip of this punchy hard seltzer based rum cocktail. Sure to tickle your tastebuds and certainly sticks a twist on drinking your long shot out the can and at 81 calories can be enjoyed a few times over.
Author: Long Shot
Prep Time: 2 minutes
Makes: 1 drink
...
Ingredients:
25ml dark rum

15ml fresh lime juice

Plenty of crushed ice
Method:
Fill tumbler glass (or any glass to be honest!) with crushed ice. Add 25ml Dark rum and gently stir in 15ml fresh lime juice. Take care not to pour it too vigorously top up with Raspberry & Blackcurrant Long Shot. Pour over the back of a spoon if your glass makes it difficult to do without stirring the drink too much. The gentler you are the more chance you'll have of getting a successful layering! Garnish with fresh raspberries and a squeeze of lime (optional)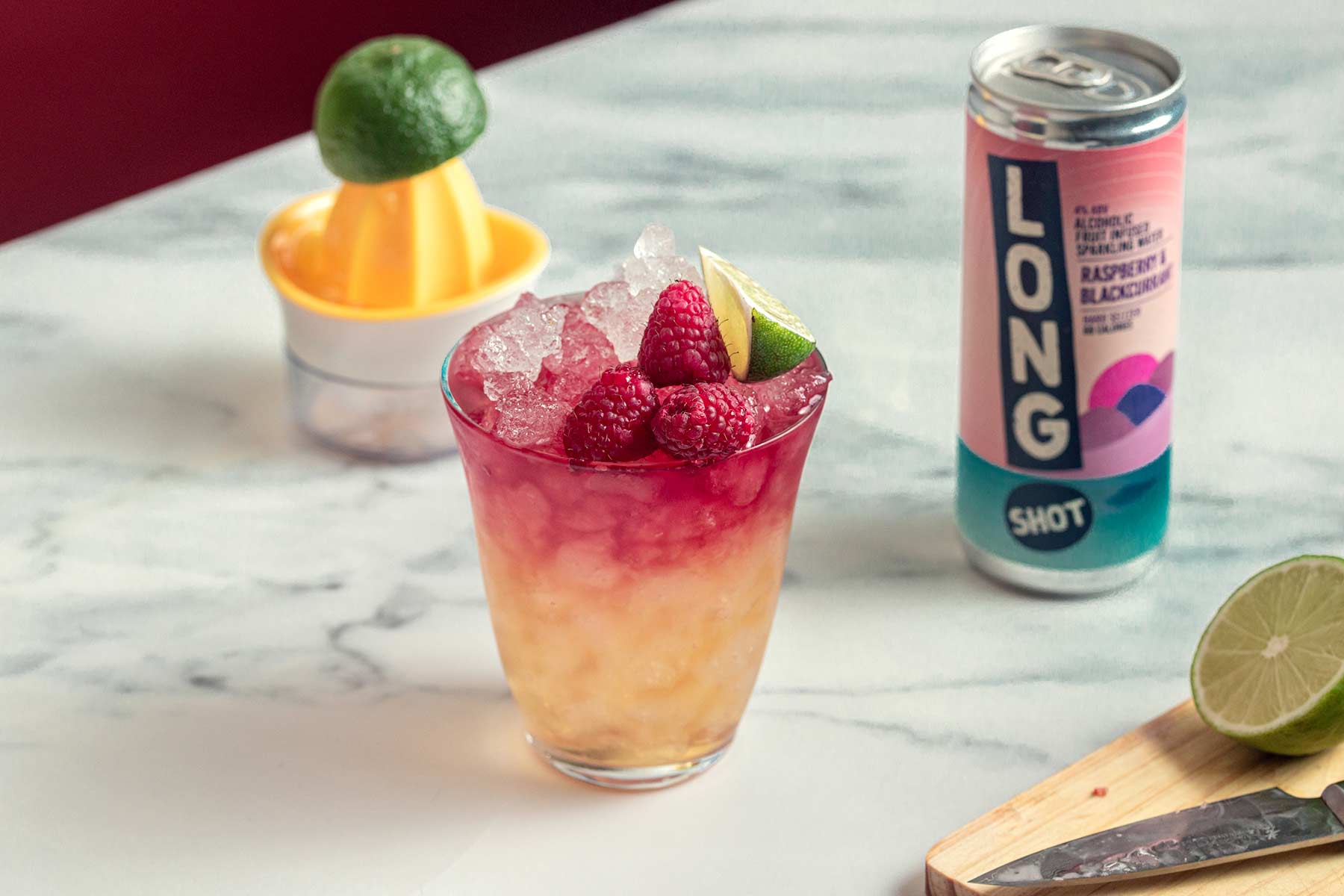 Try it out at home and tag us in your efforts on Instagram so we can judge your mixology tekkers.
Like the look of this but want to try some others? Why not check out some of our other Long Shot hard seltzer cocktails?