World Vegan Day is upon us and to mark the day we wanted to share some amazing, inspirational foodie content with you all again. ValSweetpea.eats over on Instagram (follow her here) has put together another list of tasty treats to keep us all dribbling and to give you some inspo!
Hard Seltzers are all predominantly vegan, gluten-free and when compared to other alcohol choices (like beer or cider) they're low in calories too which makes them popular drinks for people on keto or low carb diets also. Val is known for her amazing keto and vegan-friendly meals so she's popped together her 'Top 5 vegan, keto/low carb meals' for us to share. Sit back, have a scroll and make sure you give them a go at home as they're not to be missed and all go down fabulously with a ice cold hard seltzer!
1. Shredded jackfruit tacos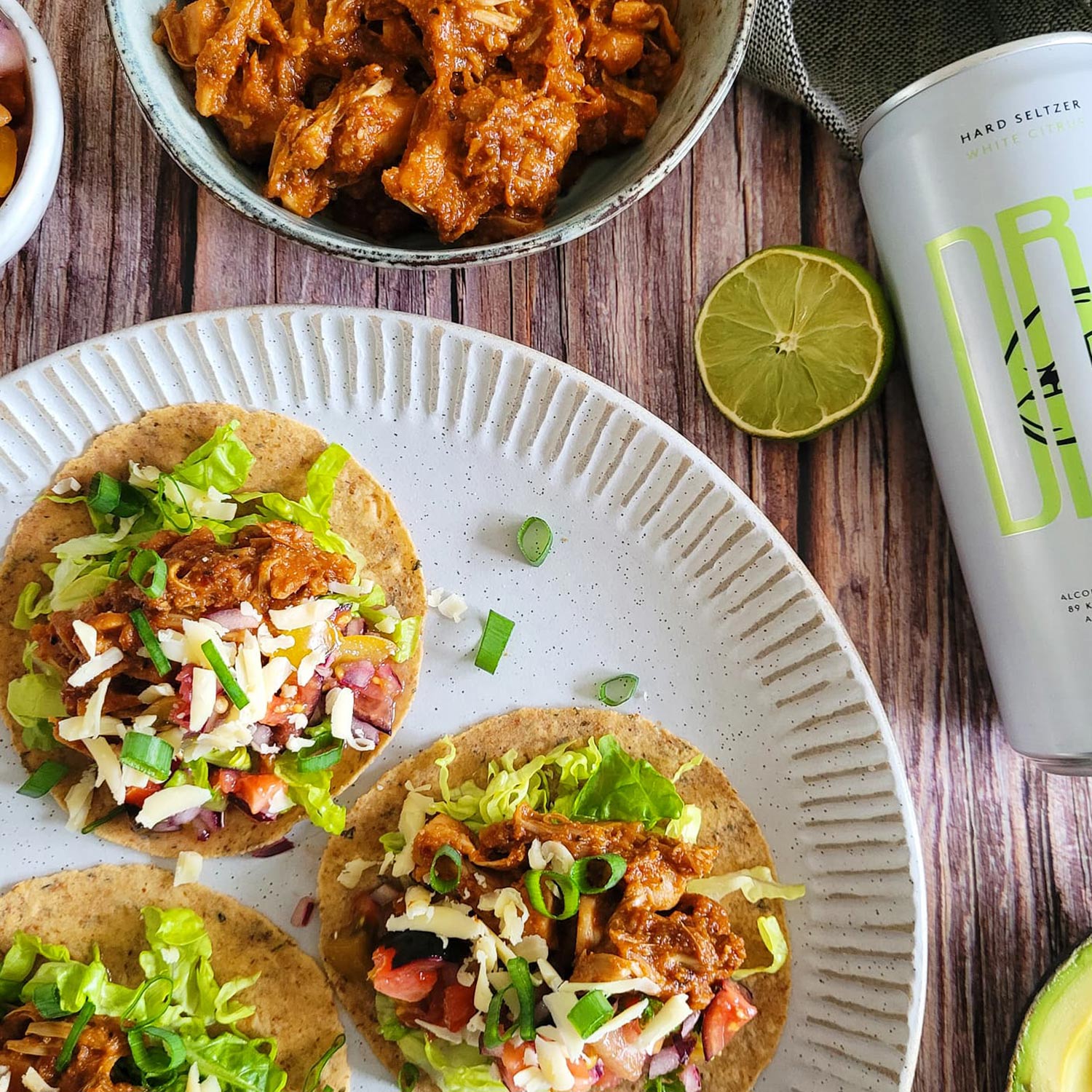 One of my favourite things to eat is tacos. You can make so many lovely vegan variations and this one is definitely one of my favs! The BBQ sauce really gives these tacos a rich and smoky flavour. Not only is this great for tacos, but the shredded jackfruit is also great in burgers and wraps.
Ingredients:
For the Shredded Jackfruit:
1 can of young green jackfruit
1 Tbsp erythritol
1 Tbsp ground cumin
1 Tbsp ground coriander
1 Tbsp onion powder
1 Tbsp garlic powder
1 Tsp dried chilli flakes
1 Tsp salt
1 Tbsp ground black pepper
1 Tbsp yellow mustard
2 Tbsp low sugar ketchup I use Dr Wills ketchup
3 Tbsp coconut aminos I use Cocofina organic aminos
2 Tbsp apple cider vinegar I use Willy's organic live ACV
1 1/2 Tsp liquid smoke
3 Tbsp water
For the Taco:
Soft taco tortillas I love Mr Tortilla 1g net carb tortillas or you can use lettuce leaves.
Tomato salsa I make my own by finely chopping fresh tomatoes, coriander, red onion and adding crushed garlic, salt, pepper and lime juice.
Avocado
Shredded lettuce
Grated vegan cheese (optional, leave out or use sparingly if doing keto)
Spring onion
Instructions:
In a little saucepan add all the ingredients for the shredded jackfruit apart from the jackfruit itself. As it warms up stir the mixture to thicken, once its combined and thick, add the drained jackfruit and leave to simmer for about 20 min on a low heat. The jackfruit will become quite soft so you can then use two forks to break it up. Once all shredded, gently stir and continue to cook for another 5 min.
To serve, warm your tortillas on a dry frying pan, then transfer onto a plate, add all the salad toppings and then the shredded jackfruit mix, finally add the grated vegan cheese and spring onion. Goes great with the DRTY White Citrus Hard Seltzer.
1.
Mediterranean nut roast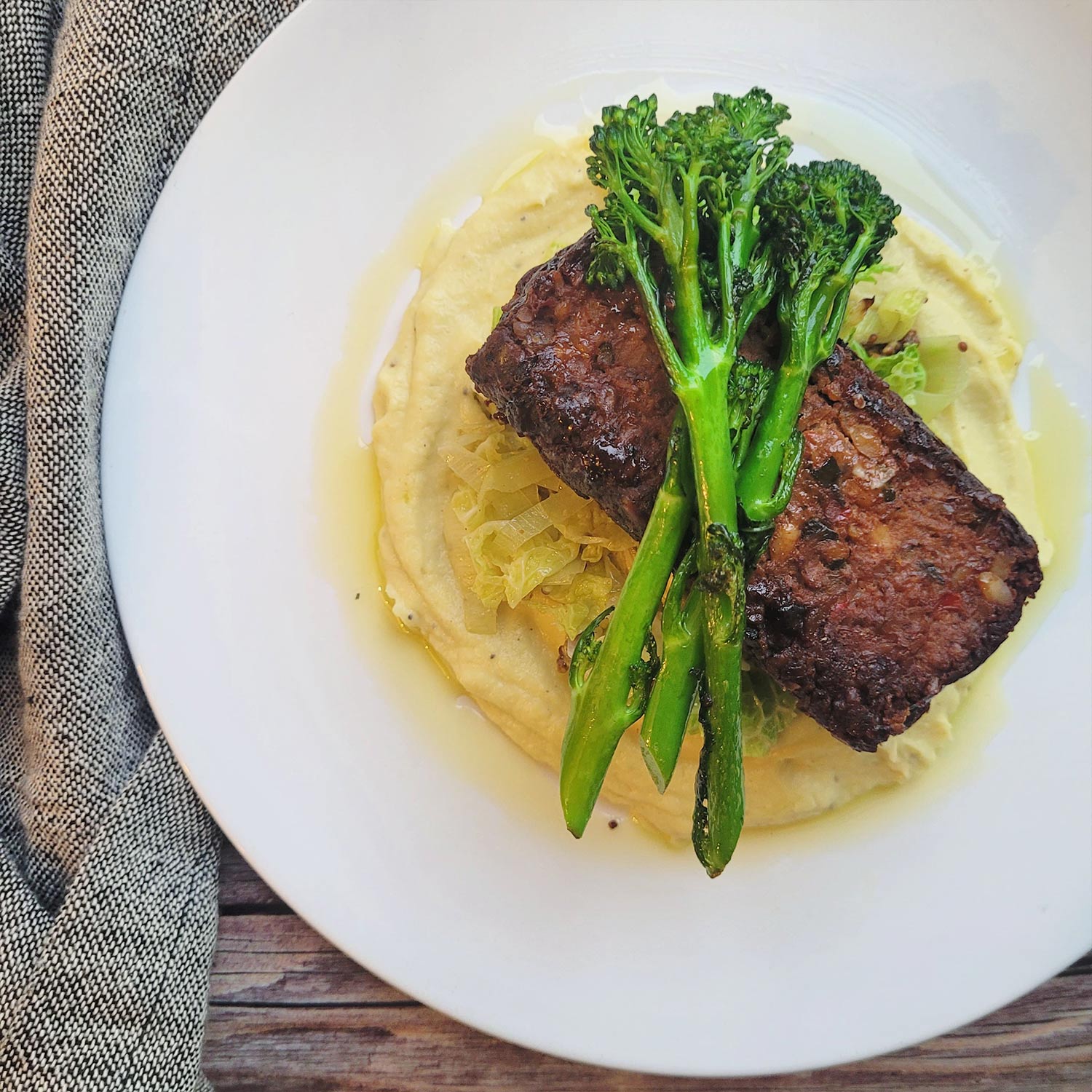 This is such a lovely dish to have as a meat alternative for your Sunday roasts. It's packed with veggies, nuts and herbs. I love serving mine with a nice garlicky cauliflower mash, tender stem broccoli and braised cabbage. This recipe serves 5.
Ingredients:
300g mushrooms
1 medium courgette
1 large onion
1 celery stick
1 red bell pepper
2 cloves of garlic
100g cashew nuts
120g walnuts
25g pumpkin seeds
25g sunflower seeds
2 Tbsp milled flaxseed
1 Tbsp mixed Italian herbs
1 Tbsp oregano
1 Tbsp paprika
2 Tbsp tomato puree
1 Tbs dark miso paste I use Clearspring Organic Brown Rice Miso Paste
200ml veggie stock
Instructions:

Place the cashew nuts into a food processor with a tablespoon of water and blitz until it turns into nut butter. This will be added to the mixture later in the recipe.
Next, roughly chop the veggies and fry them in a pan for a few minutes until they start to soften. Once soft, add in the miso paste, herbs and veggie stock, give this a mix and then add in the cashew butter and milled flaxseeds. Once this is all combined the mixture will turn quite thick, once it reaches this consistency, leave to the side to add to the nut later.
Place the walnuts and seeds in a food processor and blitz to small roughly chopped pieces, pour in the veggie mixture in with the nuts and pulse until combined. Next, grease and line a loaf tin, pour the mixture in and place in a 200C oven for about 30min. Once cooked gently remove the loaf from the tin and slice to serve.
2.
Tofu scramble
I love live music and one of the venues I go to in Bristol (The Exchange) posted a little video on Facebook on how to make this dish over lockdown. After seeing it and trying it myself, I was hooked!! I think I had it almost every morning for breakfast for a month haha! Since then, I've adapted their original recipe and thought I'd share it with you as it's still one of my favourites to this day.
Ingredients:
200g firm tofu I use half a pack of Cauldron organic tofu
2 Tbsp of nutritional yeast
2 Tsp paprika
1 Tsp garlic powder
1 Tsp onion powder
1/2Tsp turmeric
75ml plant milk I use almond milk
1 1/2 Tbsp Avocado oil
Salt and pepper
Instructions:
Remove the tofu from the packaging and strain/press out as much liquid as possible. Place the avocado oil in a frying pan and crumble in the tofu. Fry off the tofu for a few minutes then add the nutritional yeast, paprika, turmeric, garlic and onion powder. Stir gently to cook off the spices. Next, add in the plant milk and stir gently so everything is well combined. Add salt and pepper to taste. If you like a runny mixture, you only need to cook it until it's hot, otherwise, you can cook it a bit longer until the plant milk has reduced.
I like to serve mine on some keto toast with some fresh tomatoes on the side. Goes great with a Two Brooks Lime Cooler Hard Seltzer
3.
Chilli bowl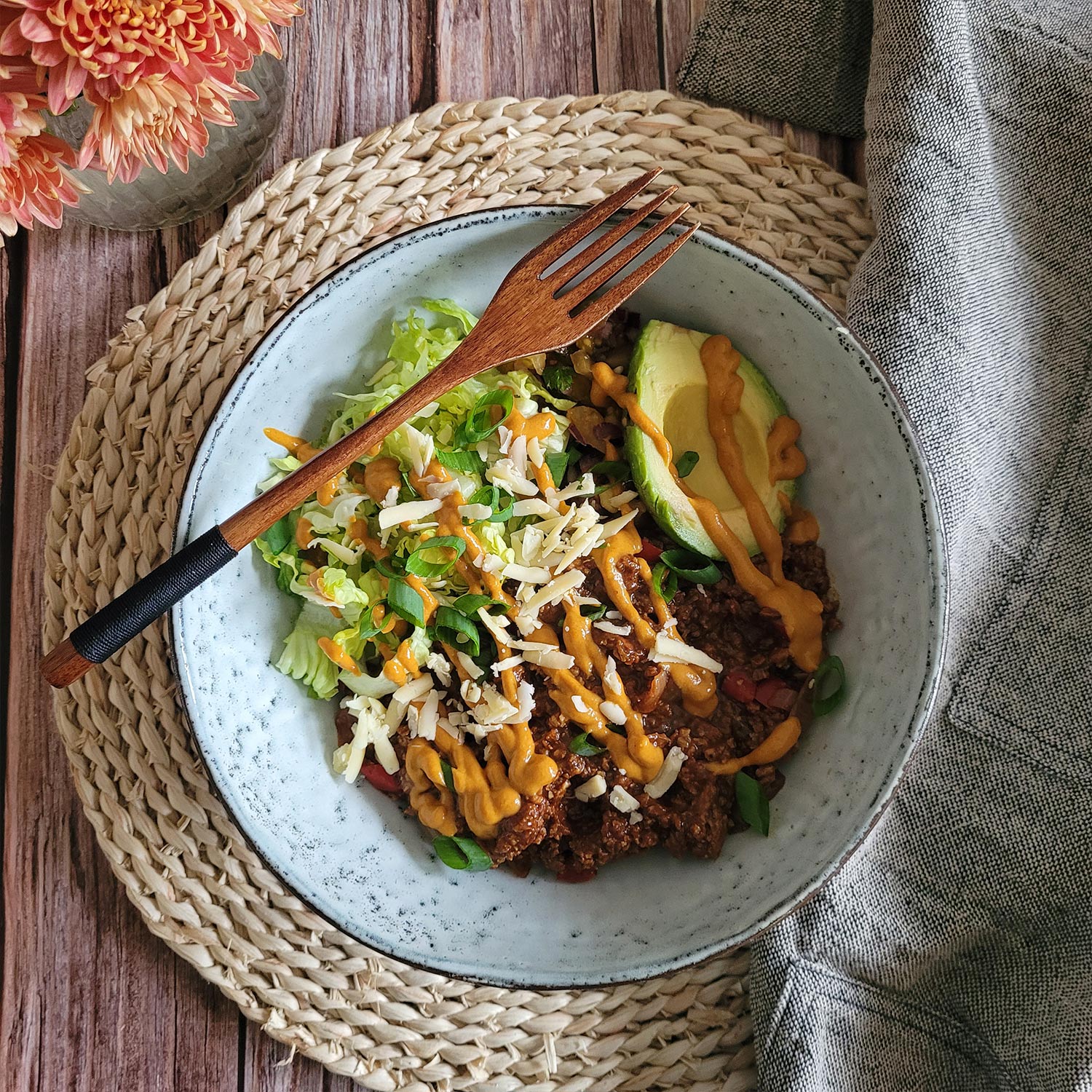 This is one of my all-time favourite comfort foods. I make this chilli bowl with a side salad, but it can easily be a lovey winter dinner if you swap the salad for some cauliflower rice.
Ingredients:
For the Chilli:
200g plant-based mince I just love the Meatless Farm mince, it cooks beautifully and tastes great.
One large onion chopped into approx. 1cm cubes
One red bell pepper chopped into approx. 1cm cubes
One large fresh tomato chopped into approx. 2cm cubes
2 cloves of garlic crushed
1 Tbsp tomato paste
400ml of veggie stock
1 Tsp liquid smoke
1 Tsp raw cacao
1 Tsp chaga mushroom powder (optional, chaga will give the chilli a nice deep dark colour, but if you don't have it, it's not essential)
1 Tbsp coconut aminos
½ Tbsp ground cumin
½ Tbsp Onion powder
½ Tbsp Garlic powder
½ Tbsp Cayenne pepper
1 Tsp chilli flakes
1 Tsp hot chilli powder
1 Tbsp paprika
For the sides:
Lettuce
Half an avocado
Grated vegan cheese (optional, leave out or use sparingly if you're doing keto)
Spring onions
Jalapeños
Vegan cashew cheesy sauce or dairy-free yoghurt The cashew cheese sauce I use is Core and Rind Rich and smoky it is fantastic with a chilli, otherwise I use COYO organic coconut yoghurt.
Instructions:
Fry off the onion in some avocado oil until slightly translucent, then add in the vegan mince, cook for a few minutes then add in the bell pepper and garlic. Next, add in the chopped fresh tomatoes and all the spices including the cacao and chaga. Stir for a bit to cook off the spices then add the tomato paste, veggie stock, liquid smoke and coconut aminos. Let the chilli simmer for a bit until the liquid reduces.
To serve, I place the chilli on one side of the bowl, then add the salad on the other side. Place half an avocado and drizzle the cheese sauce (or dollop the yoghurt) and sprinkle spring onions on top.
Goes great with a Ride Blood Orange Hard Seltzer.
4.
Burger salad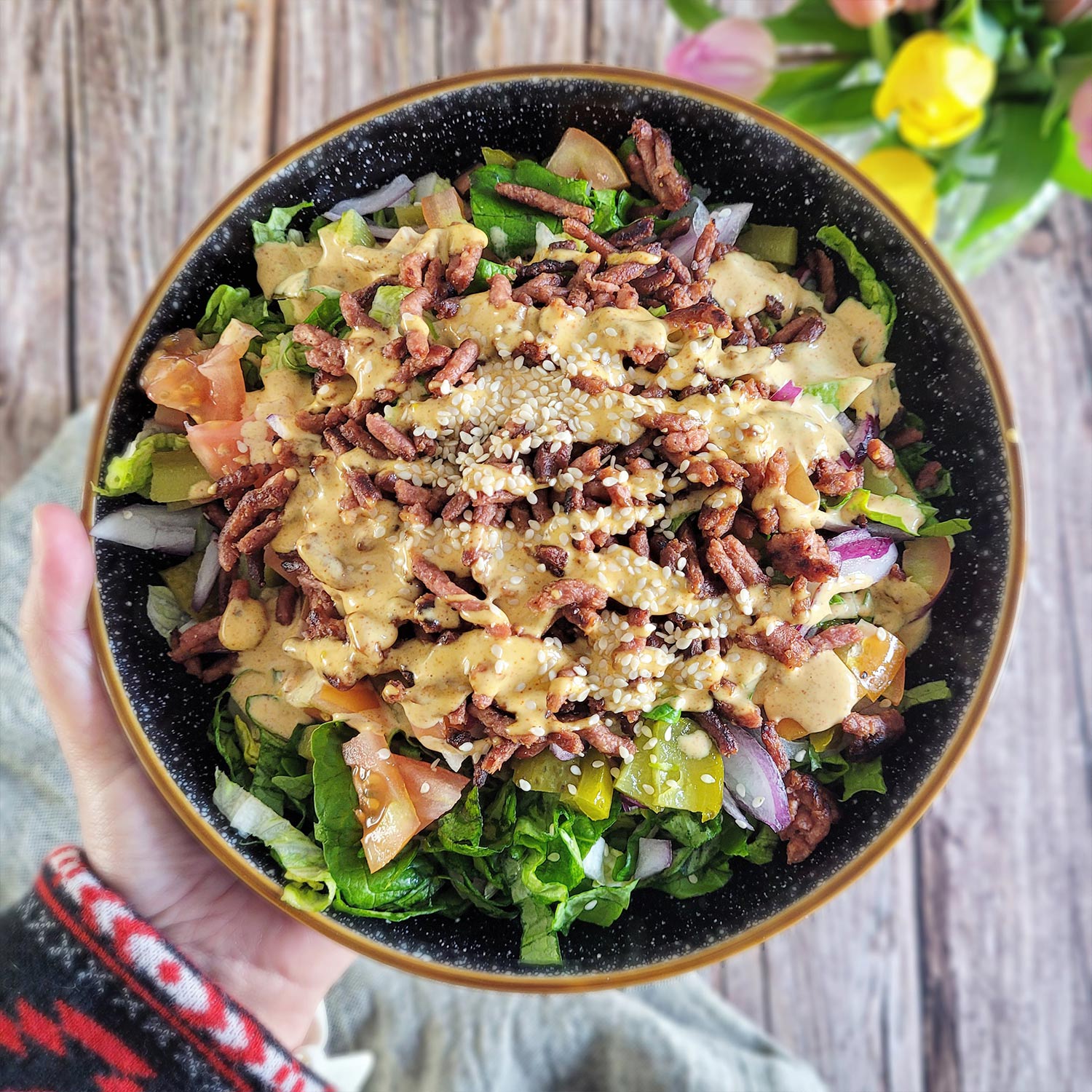 When I first started keto, I started following a whole bunch of people on Instagram to get inspiration and recipe ideas. I stumbled across keto.with.karla (a fellow Antipodean) she had made an amazing looking burger salad and shared the recipe with me. Big mistake, because now I make this all the time, it's so good!!!! I've adapted the recipe a little to add my twist to it. Hope you will love it as much as I do.
Ingredients:
Dressing
1/2 cup of vegan mayonnaise I use Hunter and Gather it's made with avocado oil and apple cider vinegar which make it taste so good.
2 Tbsp gherkin pickling liquid make sure you use a low sugar/sweetened with sweetener brand.
1 Tbs yellow mustard
1 Tsp paprika
1 Tsp onion powder
1 Tsp garlic powder
1 Tsp finely chopped dill
Salad
200g plant-based mince I use Meatless Farm mince
Shredded lettuce
Red onion
Tomatoes
Gherkins
Toasted sesame seeds
Salt and pepper
Avocado oil
Vegan cheese (optional, leave out or use sparingly if doing keto)
Instructions:
In a frying pan fry off the plant-based mince with some avocado oil and a pinch of salt and pepper. Once it's all nicely cooked, take the pan off the heat and leave it to the side and start on your salad dressing.
To make the dressing, simply pop all the ingredients in a little jar and shake to combine (this makes about 4 servings) Next to assemble the salad. Place the shredded lettuce, tomato chopped in bite-size pieces and finely sliced red onion into a bowl. Then chop the gherkins into about 1cm cubes and pop them in. I've not given measurements to the salad ingredients because you just add the amount that you fancy. I use about 1.5 cups of shredded lettuce, half a tomato and about 2 large gherkins.
Next, add in the cooked mince and if you fancy it, some grated cheese too (I've put cheese as optional because it's hard to find a vegan keto cheese and to be honest, it's just as tasty without the cheese). Once everything is in the bowl, pour some of the burger sauce dressing on top (the rest of the sauce can be stored in the fridge for quite a few days), and then sprinkle with toasted sesame seeds before serving.
Goes great with a Percival Apple & Mint Hard Seltzer
______________________
Massive props to Val again for her amazing selection of recipe ideas. If you missed the top 5 vegetarian meal ideas edition of this then be sure to check it out too. Make sure you go check out her instagram and tag us in your foodie pics if you try any of these at home!