As you should know by now Hard Seltzers are by majority, totally vegan, gluten-free and suitable for vegetarians. These cans of fruit flavoured alcoholic sparkling water are officially on the hit list of many vegans and veggies across the UK (although there is the odd exception).
By nature Hard Seltzers also keto-friendly which is one of the reasons our pal Val over on Instagram (follow her here) was one of our first ever customers. Since then we've dribbled and drawled over the huge collection of jaw-dropping keto-friendly delights that Val posts on Instagram and thought it was about time we got her to share some with you guys!
To celebrate world vegetarian day we've asked her to put together 5 of her favourite vegetarian meals. Of course, she didn't disappoint and has pulled out 5 amazing dishes for you to try out at home. So without further delay, let's get to it.
1. Kimchi Grilled Cheese With Avocado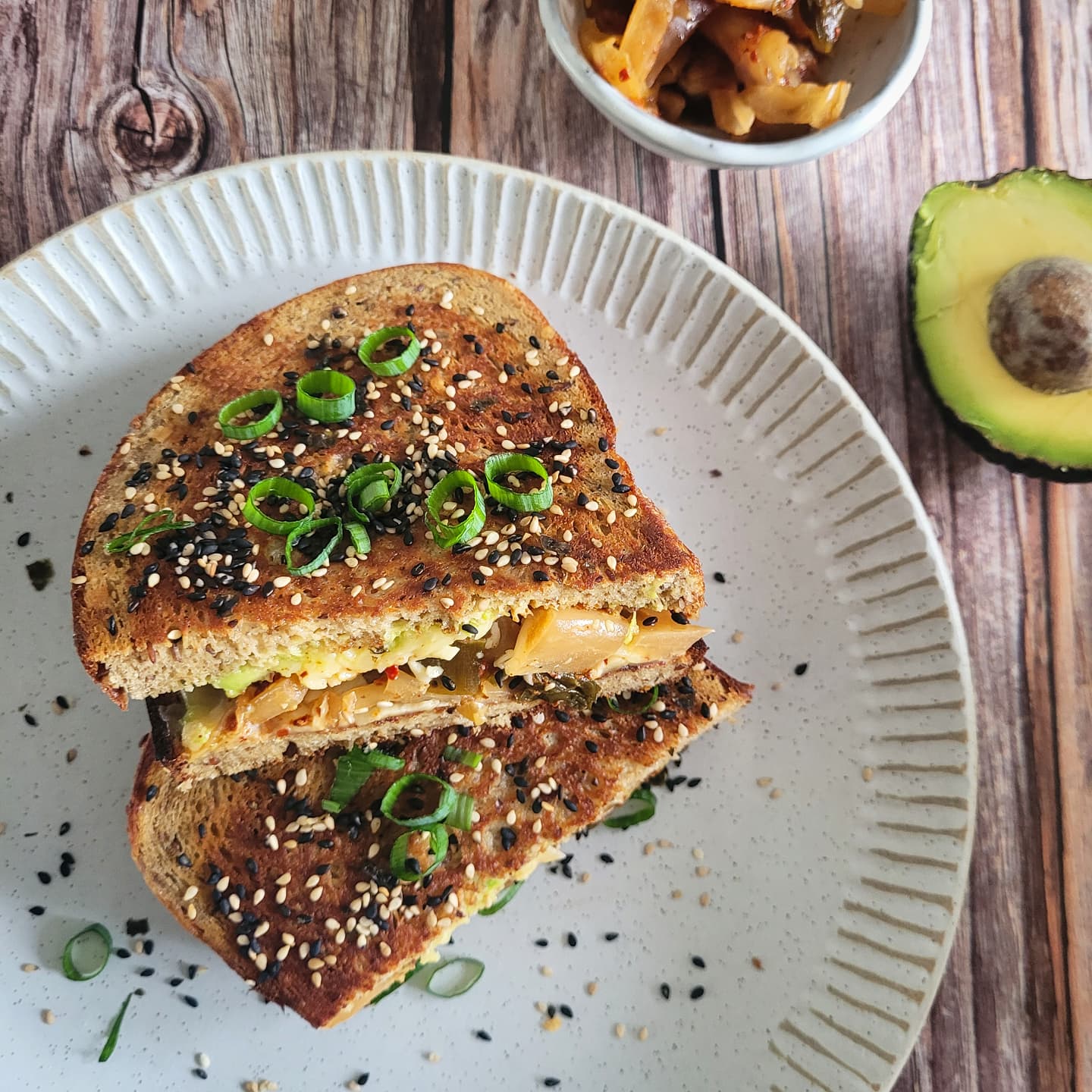 One of my all-time favourite things to make because it's super quick, easy, tasty and rich in probiotics, so really good for you! My comfort food!!!
Ingredients:
Kimchi
Mayonnaise (I use Hunter and Gather classic avocado oil mayo. You can also use butter, or to make it vegan you can use vegan butter or mayo. I use mayo because it gives the toastie a richer flavour)
Avocado
Grated cheese (to make vegan I use a vegan mozzarella)
2 slices of bread (I use the Freedough artisan Classic Loaf because it is low in carbs and high in protein)
Toasted black and white sesame seeds
Spring onions
Instructions:
To make this toastie first I spread the inside of the bread with mayo and then pop it into a frying pan on a low heat to toast (mayo side down). Once the inside is toasted, I spread more mayo on the un-toasted side and flip to face down on the pan. Add on a layer of grated cheese, then some kimchi (you might need to chop it finely if the pieces are quite chunky), add some slices of avocado and finally add another layer of cheese before popping the top of the sandwich on top (toasted side down). Press the sandwich as it's toasting in the pan. Before you flip the toastie, spread mayo on the top, flip and toast until golden brown.
To serve, I sprinkle some toasted black and white sesame seeds on top with some finely chopped spring onions.
2. Veggie Burger & Marmite Celeriac Fries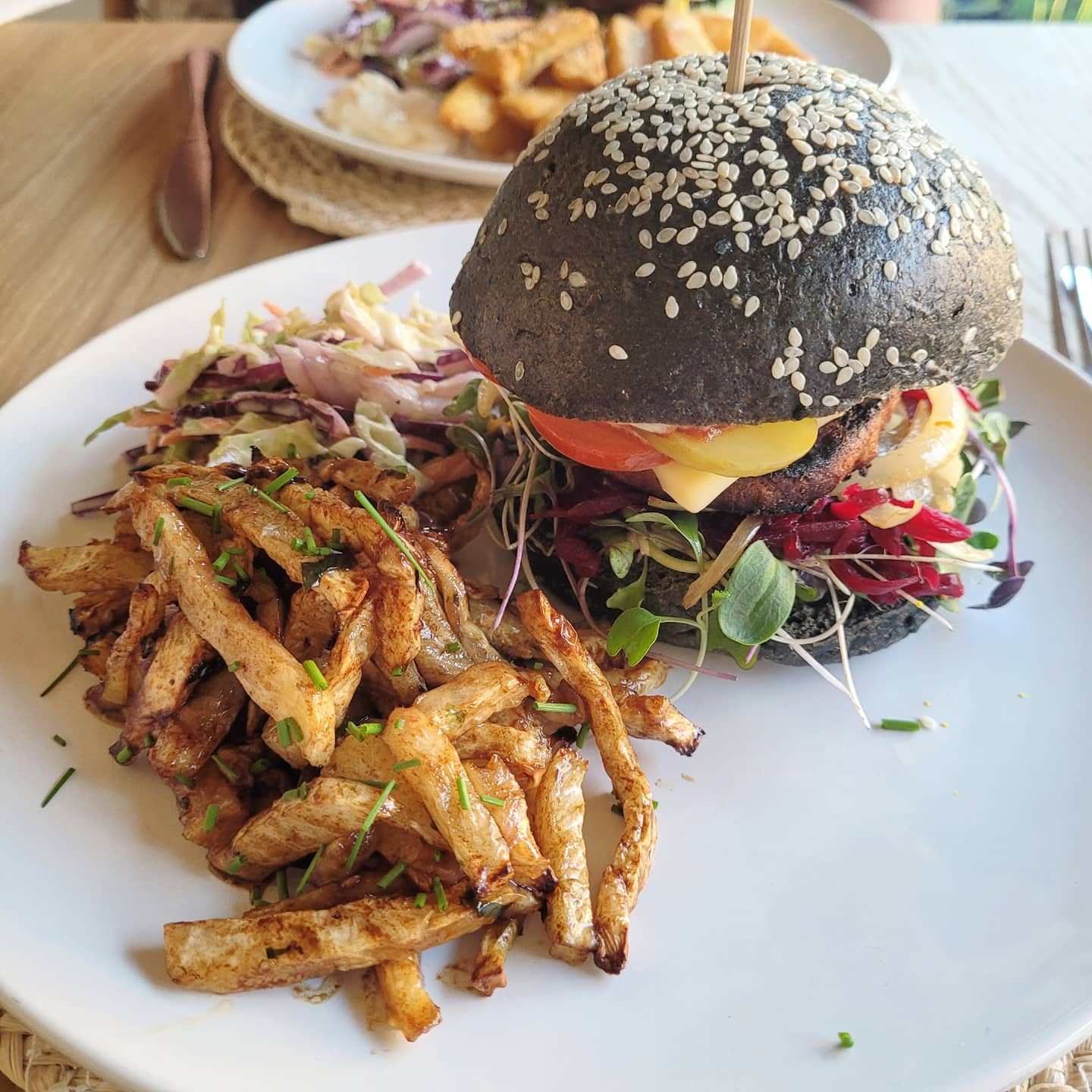 These celeriac fries are such a great side dish. The umami from the Marmite really packs a punch. I first had these from a vegan burger place called Oowee. They were so yummy, but theirs were mini potato waffle fries and since going keto I wanted to make a version that was low carb. So, I created this!
I've made these fries to go with a lovely veggie burger using the Freedough Black Seed Bun, fresh salad and Beyond Meat burger patty.
Ingredients:
Celeriac - chopped into fries (you can make them chunky fries or thin shoestring ones)
Marmite - (or vegemite) about 1 teaspoon but you can more to taste
Butter - about 1 tablespoon, room temperature
Garlic powder - about 1/2 teaspoon
Chives - finely chopped
Instructions:
Chop the celeriac into fries, then bake them in the oven (or air fryer) until golden. While they are cooking in the oven make the marmite sauce by mixing the marmite with the butter and garlic powder. Once the fries are cooked, pop them in a large bowl with the butter mixture and toss the fries until they are all coated. To serve sprinkle the chives on top.
3. Macadamia Nut Satay Skewers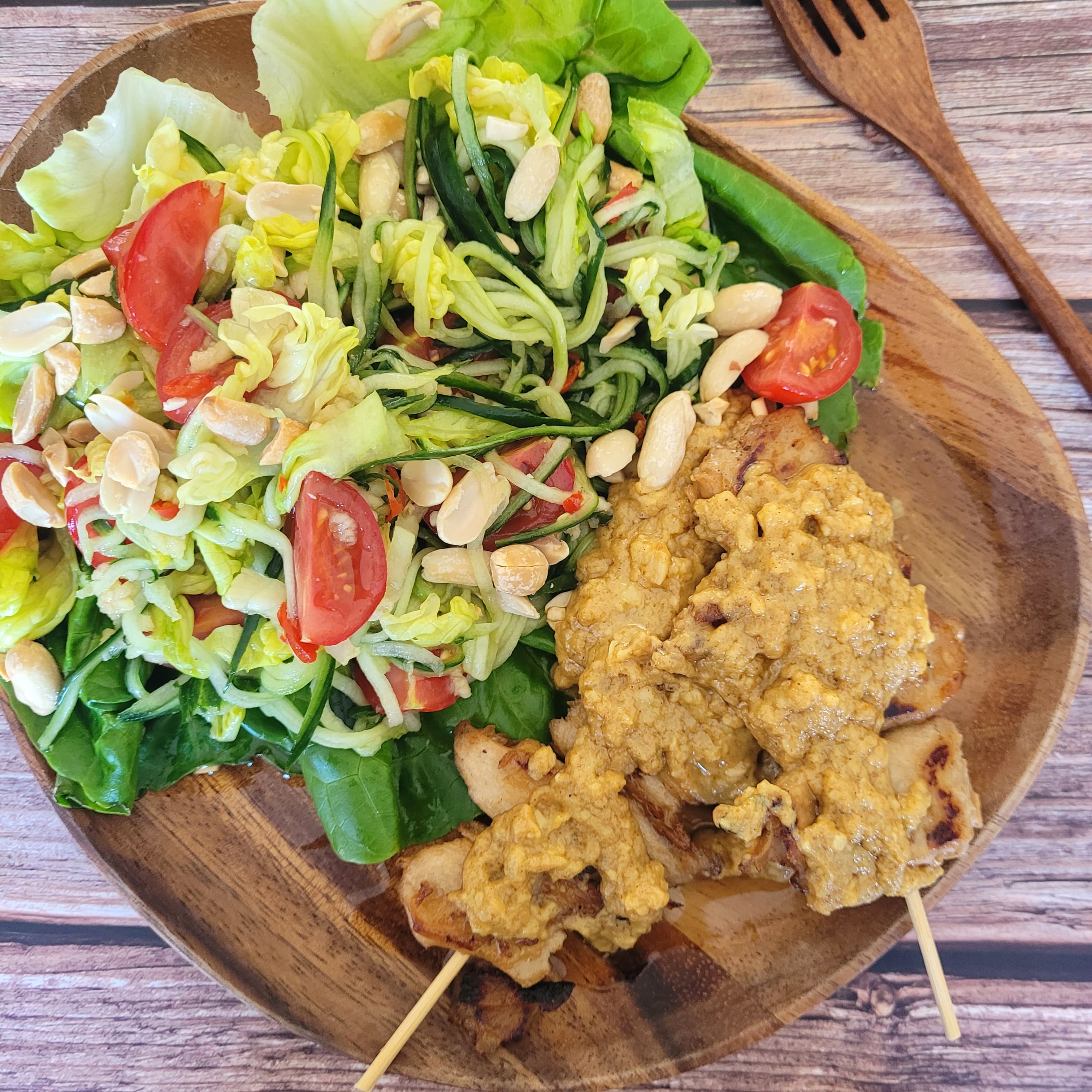 This is a take on the traditional peanut satay. I love macadamia nuts! I grew up next door to a macadamia nut farm in Australia and I remember as a kid sneaking into the farm to collect the ones that had fallen off the tree near our boundary!
This sauce goes so well with tempeh, fried tofu and veggies. I made some satay skewers using chicken strips by the No Meat Company. Defrost them and pop them on a skewer, BBQ or gill them and then smother in the satay sauce!! Yum!
Ingredients:
Coconut milk - 160ml (from a can)
Vegan 'fish' sauce - about 1 tablespoon
Macadamia nut butter - 3 tablespoons (I use Mokhado or you can make it yourself by blitzing macadamia nuts in a little food processor)
Macadamia nuts - about a handful roughly chopped
Fresh lime juice - from 1 lime
Curry powder - about 3 tablespoons
Erythritol - 1 teaspoon (or another sweetener)
Instructions:
Heat the coconut milk in a saucepan, add in the nut butter, lime juice, curry powder, 'fish' sauce and sweetener and mix until it's all combined and warm. DON'T overcook it!!! The sauce will split if you cook it for too long. Pour the sauce over the meat substitute or veggies and then to serve, sprinkle the roughly chopped nuts on top.
4. Baked Eggs With Celeriac Harissa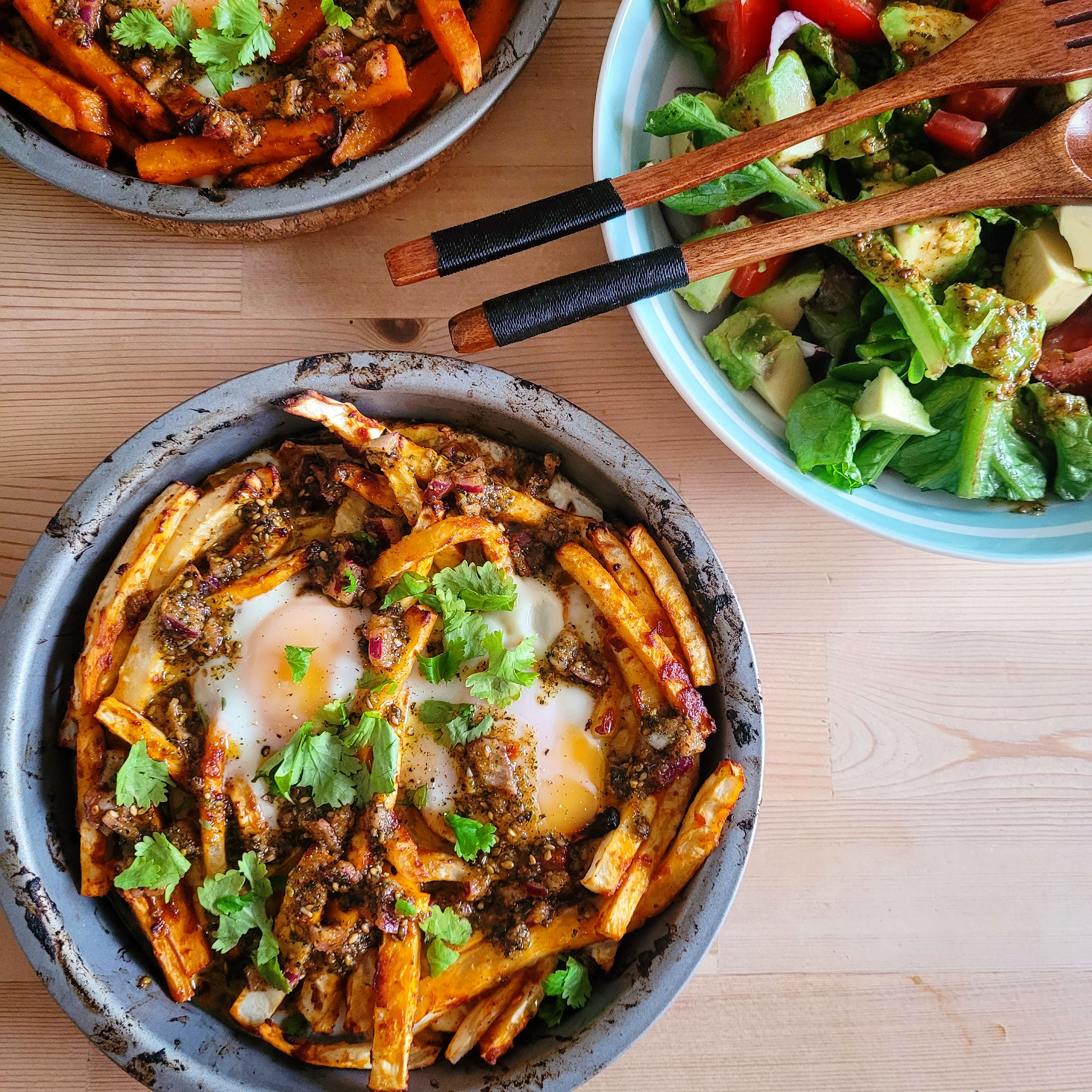 This is a dish I've adapted from an Ottolenghi dish I saw on the telly. I think he used potatoes with Gochujang and miso, but I wanted to make something with more of a North African feel so changed it up and use harissa paste and za'atar. This is so good for a chilled brunch.
Ingredients:
Celeriac - chopped into thin fries
Harissa paste - about 2 tablespoons
Olive oil - about 2½ tablespoons
Lime - ½ should do
Garlic powder - about 1 teaspoon
Salt - just a pinch
Red onion - finely chopped into tiny little cubes 1 tablespoon
Za'atar - 1 1/2 teaspoon
Instructions:
Firstly, make the marinade as this will be split to also make the dressing at the end.
Grab a little bowl and mix in the olive oil, harissa paste, lime juice, salt and garlic powder. Pour about 2/3 of the sauce on the celeriac and toss in a large bowl to coat the fries. Pop them in an ovenproof dish and bake them for about 20min on180-200 degrees C. After 20 min, take the dish out of the oven and make a well by moving the fries to the outer edges a little and place in 2 eggs in the middle. Pop the dish back in the oven for a few more minutes until the eggs are cooked to your liking (they are super delish when they are still runny).
For the dressing use the remainder of the marinade, add the finely chopped onion and the Za'atar spice. Once cooked and the celeriac and eggs are done, spoon on the dressing all over the top.
5. Easy Scotch Eggs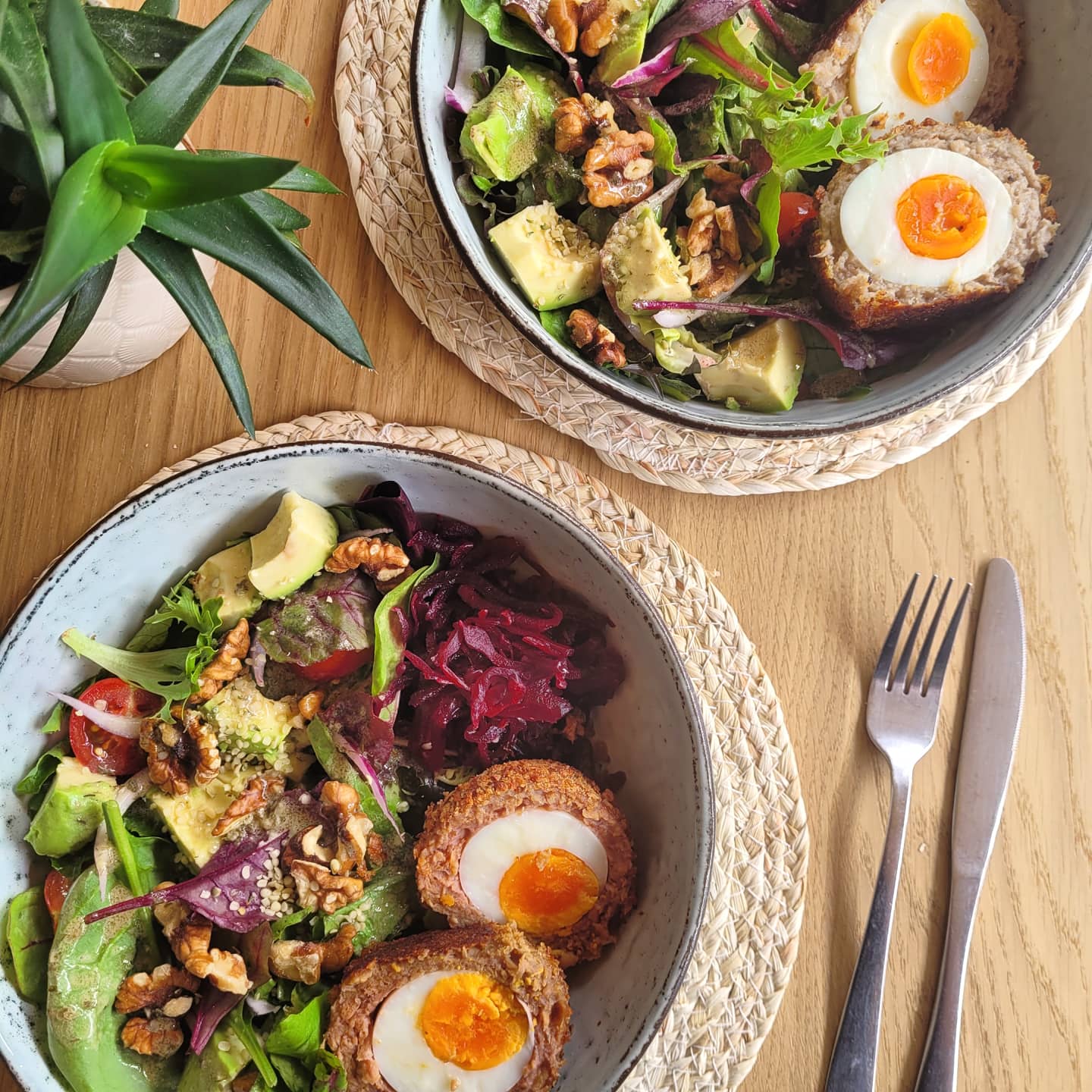 Ok, this is totally a cheat and super easy to make but really tasty and versatile. I've made them as a meal and served with a salad or as a snack when I fancied something savoury rather than sweet on the go.
Ingredients:
8 Linda McCartney sausages - (defrosted) but you can use any veggie sausages
4 Eggs - (boiled)
Almond flour - about 1/2 cup
Parmesan - about 1/3 cup
Garlic powder - about 1 teaspoon
Onion powder - about 1 teaspoon
Paprika - about 1/2 teaspoon
Salt and pepper - a pinch
Instructions:
Ideally, you want to boil the eggs in advance and have them chilled in the fridge, if not, no worries it just makes them easier to peel the shell off (in my opinion). Once the boiled eggs are peeled grab 2 sausages and mush them together so it's all combined. Flatten the sausage meat flat in your hand. Having slightly wet hands will help stop everything sticky to your hands, (alternatively you can use cling film to put the sausage meat on). Pop the peeled boiled egg in the centre of the sausage meat and wrap the egg so it's completely covered.
Once you have done this to all the eggs, pop them to the side and make the coating. For this, mix all the other ingredients together in a bowl, then pop the scotch eggs in the coating, roll them around and place them on a baking tray. I bake mine for about 15 min at 180-200 degrees or until golden.
So there we have it. 5 top vegetarian meal ideas to try at home over the next few days. Huge thanks to Val. Make sure you go check out her instagram and tag us in your foodie pics if you try any of these at home.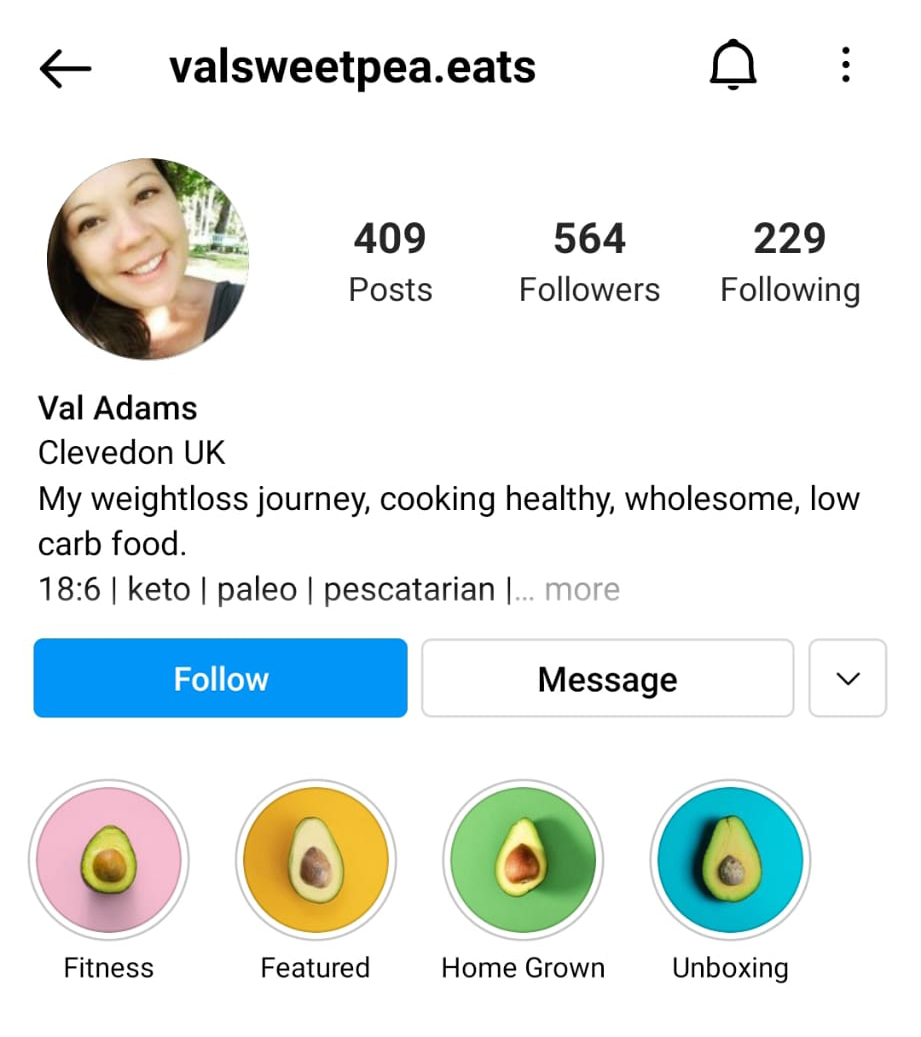 It goes without saying that all of these dishes would pair rather nicely with a refreshing, ice-cold hard seltzer. We've got plenty to pick from so why not head over and grab a mixed variety case to wash down your newly inspired vegetarian meal ideas!